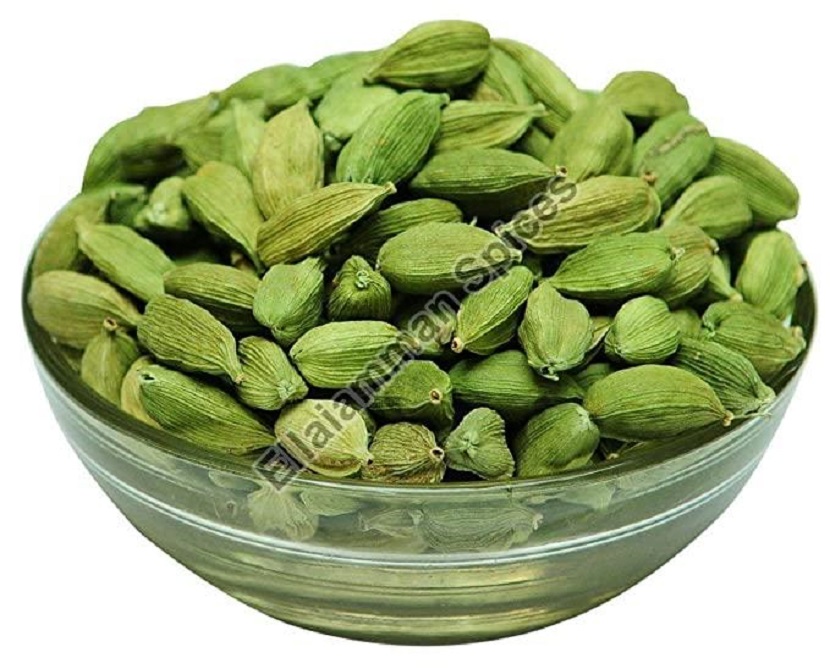 Cardamom is a pod spice that belongs to the same botanical family as ginger and turmeric. Each pod has many small seeds which can be directly added to the dishes or even used in the grounded form. Majorly there are two types of cardamom available in the market-namely black and green. Black cardamom has a smoky flavor and is mostly added to savory dishes while green cardamom has an aromatic sweet taste which can be used in the preparation of sweet as well as savory dishes.
The pale green cardamom is called true cardamom which is the most common variety you can find in the market. It is one of the costliest spices in the world and maybe because of this, it is known as the queen in the land of spices. If you have ever tasted Biryani (Indian flavored savory rice) or kheer (Indian rice pudding) or the famous Masala chai, you would probably identify the aroma of green cardamom. This versatile goes well with almost any spice to add a sweet and delicate taste to your dish.
-Reduces high blood pressure: Daily intake of cardamom has a diuretic effect which helps in regulating the blood pressure levels. Therefore, people with hypertension should start consuming green cardamom.
-Improves digestive system: The presence of menthone essential oil in green cardamom helps in treating common digestive problems like bloating, gas, etc. It also eases the burning sensation in the stomach and relieves nausea especially due to motion sickness.
-Fights dental problems: This spice contains cineol which has antibacterial and antimicrobial properties and improves your oral health by killing unhealthy bacteria and preventing cavities and gum-related diseases.
-Relaxes your body and mind: Green cardamom has antioxidants that have a relaxing effect on people's minds by reducing stress. Drinking an aromatic cardamom tea, sniffing the essential oil, or chewing it can refresh you from the inside out.
-Reduces inflammation: It has anti-inflammatory compounds which protect cells from damage and prevent inflammation in the body. Also, it helps in clearing any bacterial infection and sinuses for easier breathing.
-Eliminates bad breath: For ages, green cardamom has been used as a natural home remedy for a breath freshener. It has a natural sweet mint aroma which helps you in beating bad breath.
Common applications of natural green cardamom in Indian dishes-
Sweet dishes like gajar halwa, gulab jamun, and kheer.
Cakes, cookies, and buns are added with other flavors like nutmeg, ginger, and cinnamon.
Saffron milk spiced up with cardamom.
Biryani or Pulao.
Curries for paneer, chicken, and mutton.
Masala tea is prepared with cardamom and ginger.
India is famous for its spices and the production of green cardamom is confined to the western ghats of the Southern part of India. Kerala, Tamil Nadu, and Karnataka are the major green cardamom-producing states in India accounting for more than 90% of the total production. These are widely used in every kitchen, hotel, and restaurant. Green cardamom is available in the market in different packs to match the requirements of numerous clients. India is a hub of natural green cardamom manufacturers who are contributing well to the Indian economy and the health of the people by supplying fresh green cardamom at marketing leading prices.
The manufacturers of natural green cardamom should keep a track of the following aspects to stand apart from others in the market-
The spices should be cultivated and produced under the supervision of a team of experts who ensure that the end-user receives every worth of his penny spent.
They should extensively use food-grade materials to store and pack the products.
They should sincerely adhere to the latest technology and business flow to make sure that each consignment reaches without compromising on quality.
They should ensure hassle-free service to their clients by offering timely delivery, convenient payment modes, and terms.
The green cardamom offered to them should be natural, fresh, rich in taste, with no artificial fragrance, or color.
They should offer different sizes of green cardamom in different packaging sizes to meet the demands of different customers.
Conclusion
Therefore, flavorful green cardamom is a healthy addition to your diet and you can try various amazing recipes to satiate your taste buds and get the natural pleasant aroma.