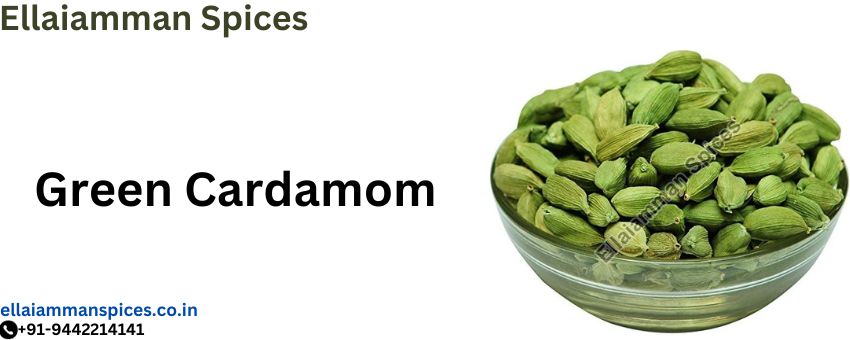 Green cardamom with an ancient aromatic component is a spice obtained from the seeds or fruits from the same plant that comes in the ginger family. It is grown in moist forests of Southern India. This plant of the ginger family is named as a herbaceous perennial plant (Elettaria cardamomum). Polished Green Cardamom is also known as chhoti elaichi in India. For years, it has been used as an aromatic and flavoring agent in the spice world. It is widely known for its pungent flavor and aroma due to which it is used in many cuisines and beverages. It is the third most expensive spice throughout the world after vanilla and saffron. This expensive spice in the market is known for its potential health benefits and uses. Chhoti elaichi has a long-lasting taste and fragrance. Green cardamom is richer in flavor and aroma than brown cardamom. Polished green cardamom can also be used as a garnish ingredient for the dish before serving. Due to the strong fragrance, Polished green cardamom is also used as a raw material in the making of perfumes, oils, candles and many others. Green cardamom is paired and blended with some other spices to provide delightful taste in drinks, desserts, curries and beverages. Many people consume cardamom because it is a great source of nutrition. This spice has been awarded as the most useful ingredient in making medicines as well.
Queen of spices (polished green cardamom) is known for its potential health benefits such as:
Helps to treat bad breath and common mouth bacteria
Prevents mouth cavities
fight bacterial infections
Helps in digestion
Useful to treat chronic diseases due to its Anti-Inflammatory Effects
Controls blood pressure
Consumed as a natural remedy for various ailments
Contains antioxidant properties that may help aid digestion and reduce muscle pain.
Flavor and Aroma: Polished green cardamom has a sweet flavor with a touch of little spiciness. It also has a deep, pungent aroma.
Polished green cardamom cultivation is done in tropical and subtropical regions worldwide. The harvesting of seeds from the plant seems fresh if green in color. Then seeds are processed and packaged for sale. Various factors in the supply chain of polished green cardamom involve demand, supply, price, quality, regulations, and environmental issues.
The supply may vary according to climatic conditions, pest infestations, diseases, and labor availability. The price in the market may also vary due to some factors like supply and demand, as well as by the production and processing costs. Quality measures like size, color, aroma, flavor, and oil content are important to increase supply. The manufacturers must provide a healthy environment that doesn't create issues like deforestation, soil erosion, water pollution, biodiversity loss, and greenhouse gas emissions.
Summary
The flavoring agent polished green cardamom manufacturers need to build trust with consumers, suppliers and maintain a good reputation in the market. It is essential for polished green cardamom manufacturers and suppliers to produce and supply a safe and high quality product that meets customer expectations and regulatory requirements.